Meet the Team
Steve Furgal
Steve has combined his two passions in life – tennis and travel. He has been planning tennis trips since 1976 and has taken tens of thousands of people over the years to realize their tennis dreams. Steve has always been very active in the tennis world including being a certified teaching professional, a director of tennis at a country club, owning and operating a tennis shop with a top junior tennis program and of course over 37 years of operating his international tennis tour company. Steve considers having the best job in the world and is grateful for all of the long lasting friendships he has made with his clients over the years.
Sylvia Nargi
Sylvia is the Senior Sales Account Executive and has been with Steve Furgal's International Tennis Tours for 17 years. As an expert in customer service and public relations, one of Sylvia's primary responsibilities is the customization of travel packages specific to the needs of our clients. Sylvia's background includes formal education in business management and her extensive experience in membership sales during her tenure in private country clubs in California and New Jersey.
Harry Latta
Harry brings over eight years of experience working in the sports world and oversses the company's operations. Some of his main tasks include program development, managing tour logistics, inventory management and financial reporting. Harry is a native of Pennsylvania and earned both his undergraduate degree and his M.B.A. from Penn State. Harry likes to play golf and watch sports, but he most enjoys being a doggy dad to Penny.
Kaitlyn Frye
Kaitlyn joins Steve Furgal's Tennis Tours from Anthony Travel where she managed and developed the Disney Soccer Tournaments hosted at the ESPN Wide World of Sports. She is in charge of travel and client relations overseeing management of hotel inventory, airfare, and quality control. Kaitlyn is a native of East Tennessee and enjoys practicing yoga.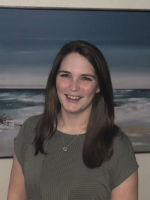 Allison Peters
Allison comes on board with Steve Furgal's International Tennis Tours after working with PRIMESPORT. She has worked several premier sporting events including the Rose Bowl and Super Bowl LIII. Allison manages ticket and hotel inventory along with other event details. She earned a Bachelor's Degree from Concordia University - Wisconsin and later acquired her Master's Degree in Sport Venue & Event Management from Syracuse University. After growing up in Wisconsin, Allison still proudly cheers for all her home state sports teams.
Riley Swisher
Riley joins Steve Furgal's Tennis Tours as a Customer Service Representative. She has 5 years of experience working in the leisure, hospitality, and tourism industry. Riley has a passion for creating memorable experiences for people. She is in charge of ensuring an excellent booking process from start to finish. Riley is a San Diego native and enjoys spending time outdoors in her free time. She has a dream to visit every national park in the U.S.